The Medicare Plan Insurance Agents Don't Want You To Know About…
What is the Secret Medicare Plan?
The Secret Medicare Plan that many consumers are unaware of is the High Deductible G Plan, also known as the HDG Plan for short. Have you heard of it before?
Why don't insurance agents talk about the HDG Plan?
Agents don't like to talk about the High Deductible G (HDG) Plan because they make less commission selling it. For example, an agent makes about 4x more selling a G Plan than an HDG Plan. That's a huge difference!
Insurance agents are supposed to act in the best interest of their customer, but that does not always happen. That's why we are exposing the truth about the HDG Plan! We want to do what is right by the client 100% of the time (even if that means making less money… because money isn't everything!)
What is the High Deductible G Plan?
Why are the premiums so low?
The HDG Plan is a Medicare Supplement plan that offers the same coverage as the standard Plan G. The HDG Plan is a great option for people who want the benefits of Plan G but would prefer lower monthly premiums and a known out-of-pocket.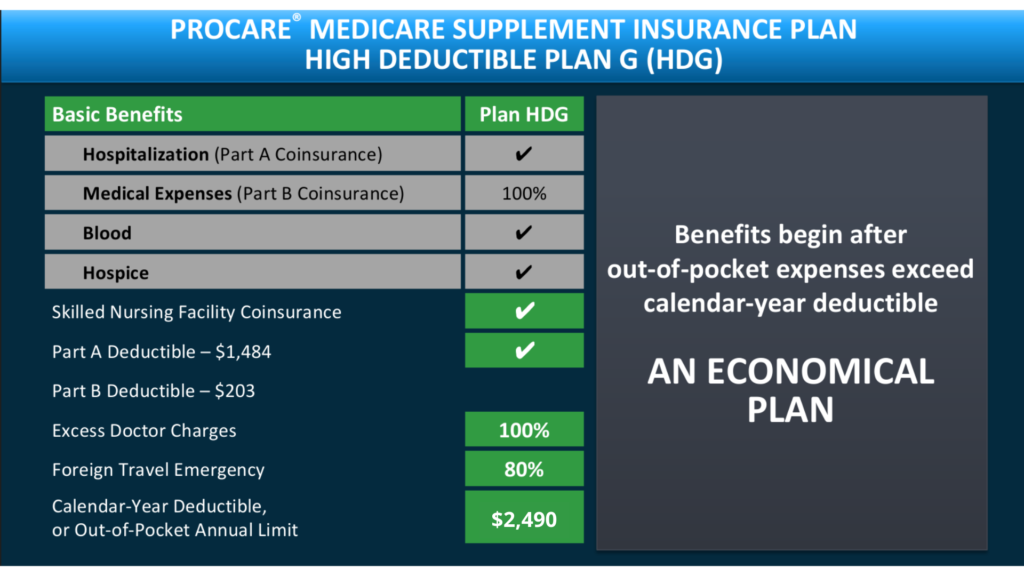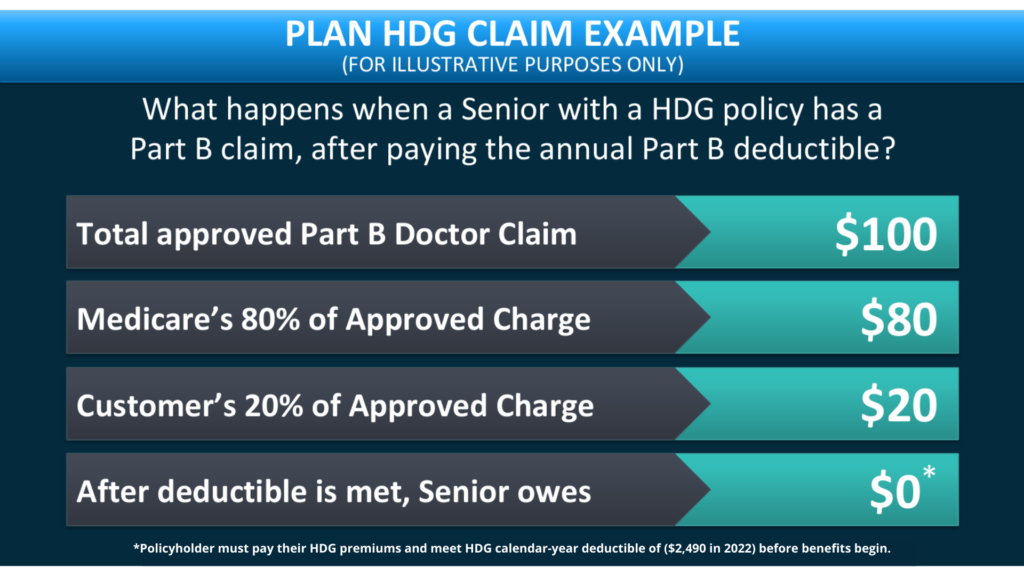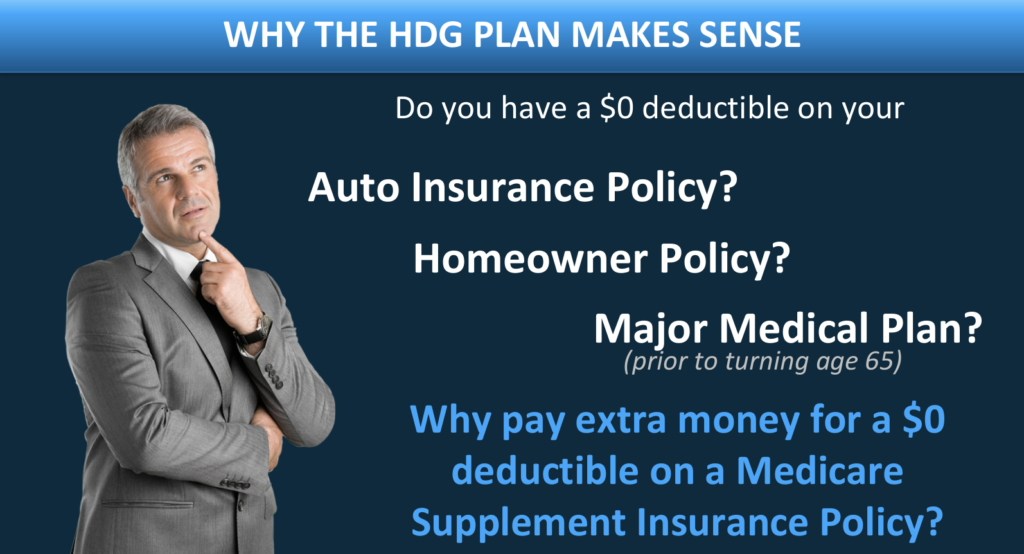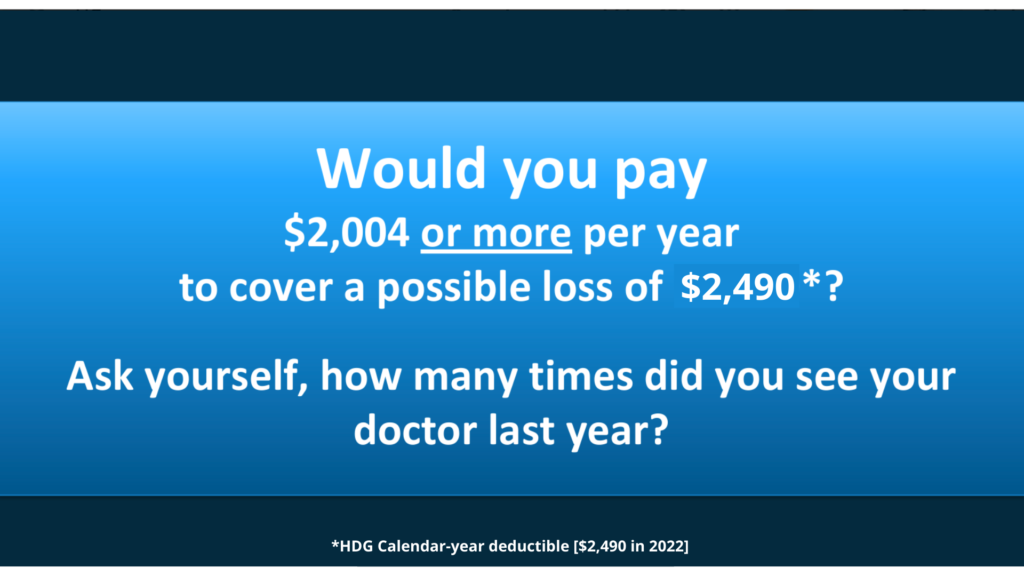 Who should consider a High Deductible G Plan?
The HDG Plan isn't for everyone, otherwise, it would be the only policy on the market! It's a great option for people who:
Want freedom to choose any provider without a referral 
Are comfortable paying a higher deductible in exchange for a lower monthly premium
Semi-frequently see the doctor or need to visit the hospital
Enjoy traveling outside the U.S.
If the HDG Plan isn't for you, that's ok! There are MANY different plans to choose from. We are here to help you find the best plan based on your needs. We put clients first and always provide truthful and honest consultative services.
How does the HDG Plan compare to other Medicare Supplement insurance plans?
The chart below compares the HDG Plan to other Medicare Supplement insurance plans.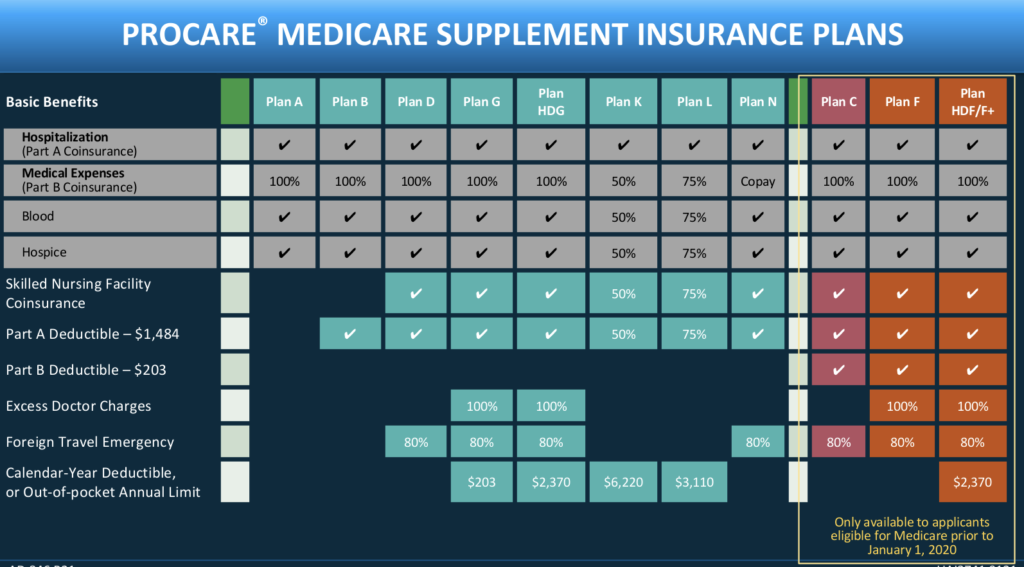 I'm not so sure about the out of pocket expenses…
What options are there?
If you are concerned about the potential out of pocket expenses, you may want to consider adding a companion product like the UA Reserve Fund Annuity to help pay for those expenses. It's not like your typical annuity account where your money is locked up for a period of time. This account functions more like a savings account that allows you to save money for out of pocket costs.
When the insurer receives your provider's claim and your calendar year deductible and coinsurance is not met, the insurer will withdraw the funds from your special savings account and directly pay the amount to the healthcare provider. If your account doesn't have sufficient funds, you will be responsible for paying any remaining balance to the healthcare provider. It's that simple!
Funds for the plan can be deposited in a lump sum and/or through monthly deposits ($50 minimum) made with your insurance premium payments. It also requires that a minimum of $10 to be maintained on deposit in the account. There are no fees or penalty charges for withdrawal of funds. It grows your money with 3% simple interest. And every quarter you will receive a statement of your account balance. Learn more about the details of the plan here.
How to Qualify or Get Started
Want to learn more or see if you would qualify for the HDG Plan? Get started today by filling out the contact form on our website and one of our agents will reach out to you to discuss and answer any questions you may have. 
Use Your Premium Savings to
Enhance Your Insurance Coverage!
One of the best things you can do with your premium savings is to invest it into another insurance product to give yourself more coverage. Great options to consider would be Long Term Care Insurance; Dental, Vision & Hearing Insurance; or a Cancer Plan. Ask our agent about what other insurance coverage may be beneficial for you.
Honest agents are the best agents. Learn about all the options available and decide which Medicare plan is right for you. 
I'm so glad I learned about the HDG Plan. It suited my needs better than the other options out there. I'm saving money and getting the coverage I need.
Find out if the HDG Plan is right for you
Address
510 Century Blvd.
Wilmington, DE 19808
Contact
800-741-1643
info@metroifs.com
Visit
M-F: 9am-5pm
S-S: by appointment only